In June, 2018, a wave of tech worker activism grew around the call for several companies, prominently Microsoft, Salesforce, and Amazon, to cancel their contracts with U.S. Immigration and Customs Enforcement (ICE). Their struggle is linked with our mission as Science for the People to fight for equity and justice in our application of science and technology, and as such, several of our chapters organized local actions to offer external support to the tech workers' efforts. This article offers a brief summary of what happened and informs our next steps in pushing these companies to discontinue support with ICE and the U.S. Customs and Border Protection (CBP) as one step in a broader movement for worker control over the direction of scientific research, innovation, and application.
New York City
Two events were held in New York City: the first was an after-work picket outside Microsoft's flagship store on June 30, and the second was part of Movimiento Cosecha's Day of Action against businesses complicit with ICE on July 31. Around 25 people joined at the former event to leaflet, chant and picket to call attention to Microsoft's support for agencies that were separating families at the border. By July 31, the family separation component of the 'zero tolerance' policy was significantly scaled down, but still many children were and continue to be detained away from their families in private prisons that subject them to forced psychotropic drug consumption and sexual abuse–some never to be reunited.
Meanwhile, worker campaigns continued to grow in momentum, leading the immigrant rights' group Movimiento Cosecha to put out a call for a day of action making clear that #WeWontBeComplicit with companies that support ICE in order to enhance external pressure in tandem with workers' campaigns. We built off our initial picket by growing a coalition alongside Movimiento Cosecha, the International Socialist Organization, Rise and Resist and Desis Rising Up and Moving (DRUM) to organize a march between Microsoft, Salesforce and Amazon downtown with pickets at each location. Outside of Microsoft, tech workers offered their support for our action while finishing their workday.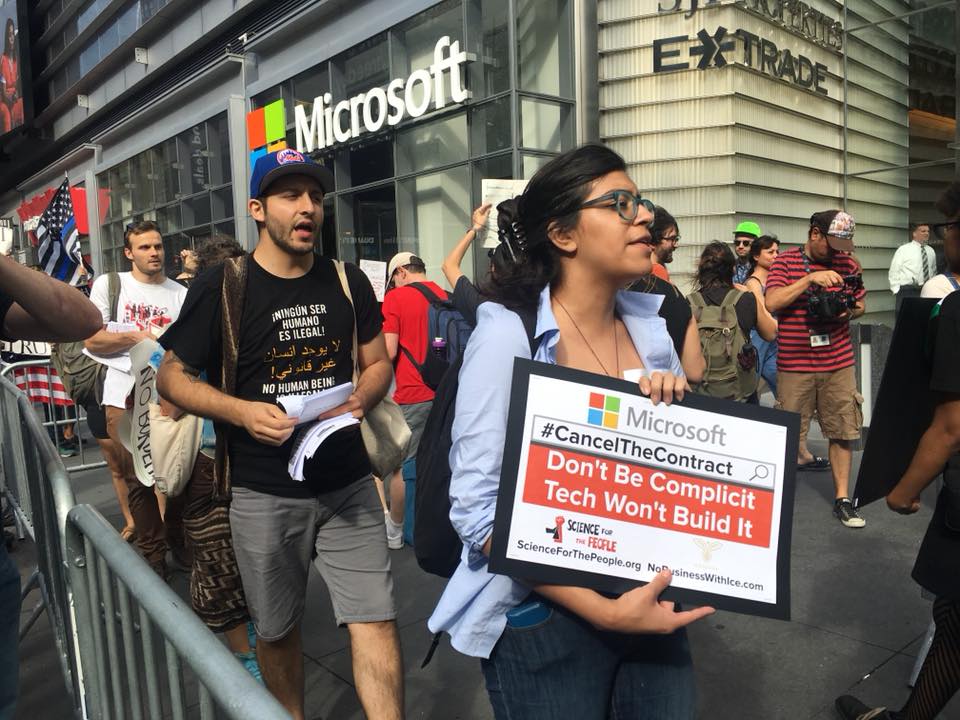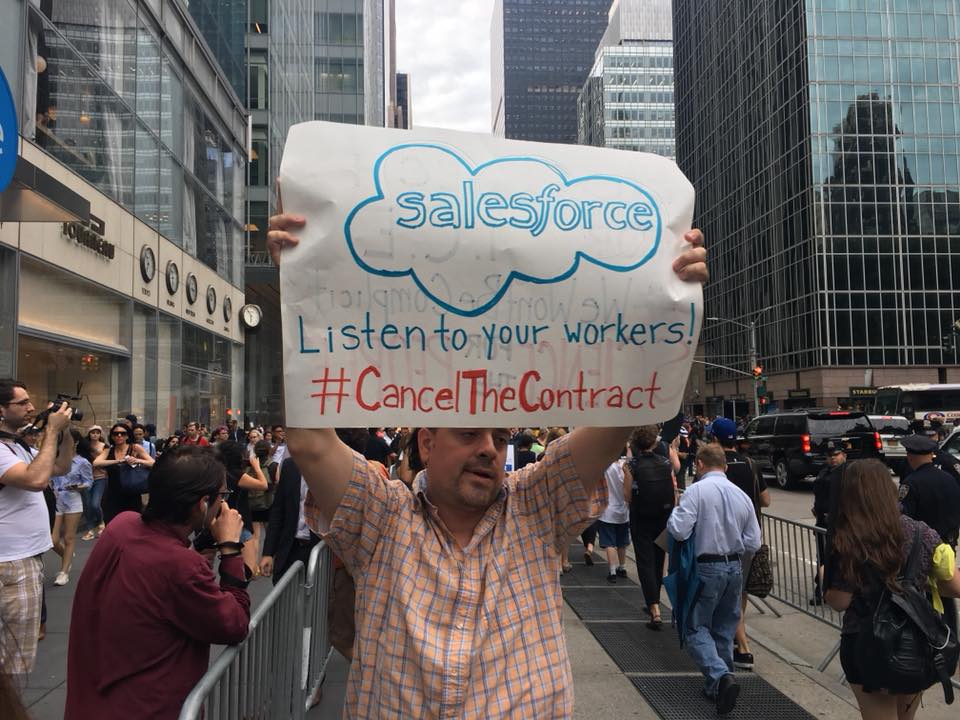 Our movement grew as we marched first to Salesforce, where the Rude Mechanical Orchestra joined to support our chants. On the way to Amazon, we disrupted rush hour foot traffic as by then we were hundreds in size. In the end, six people were arrested outside of Amazon for refusing to allow business as usual while children are imprisoned and tortured in the name of racist immigration policies. Through this action we extended our coalition to include not only scientific workers but also social justice and immigrants rights groups. With continued pressure from both inside and out, we can and will force these companies to #CancelTheContract. And ultimately, we will #AbolishICE.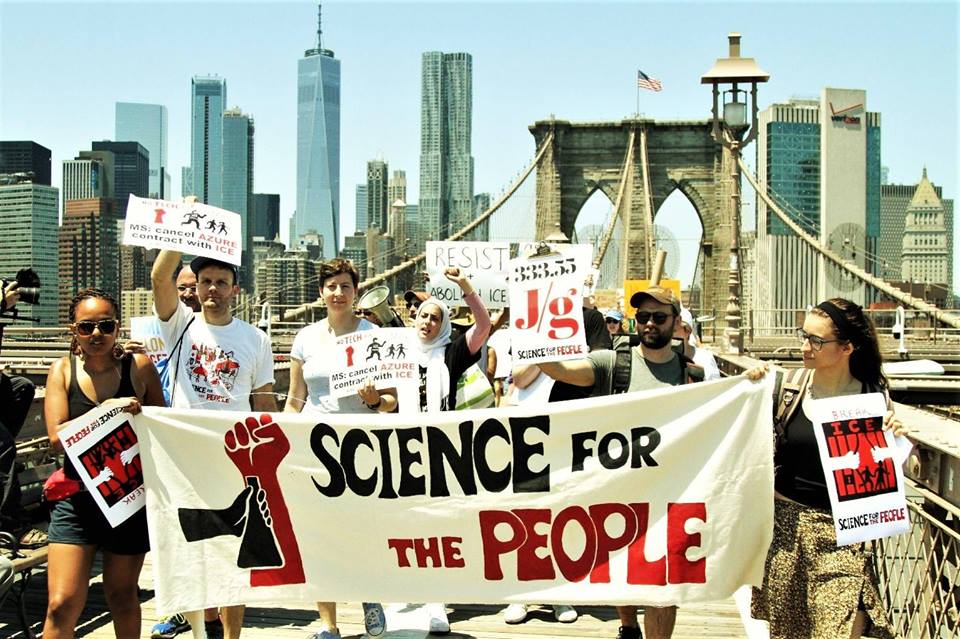 Atlanta
On Saturday evening, July 14, Science for the People (SftP) Atlanta in coalition with Metro Atlanta DSA rallied its members and allied tech workers in the halls of Lenox Square Mall in front of the Microsoft store in solidarity with migrants and Microsoft workers protesting their company's contract with ICE.
After SftP and DSA members engaged in one-on-one conversations with Microsoft store employees to inform them about the ongoing petition, explain its demands, and express our organization's support with the MS workers' petition, the larger group of activists gathered in front of the store with signs and chants to draw attention to the cause. Flyers with Microsoft workers' demands and ongoing petitions to end the contract with ICE were passed out to a large crowd that had gathered soon in the hallway around the store. To our surprise, many passerby joined the protest raising their voice in solidarity and chiming into our choir: "No Tech for ICE!".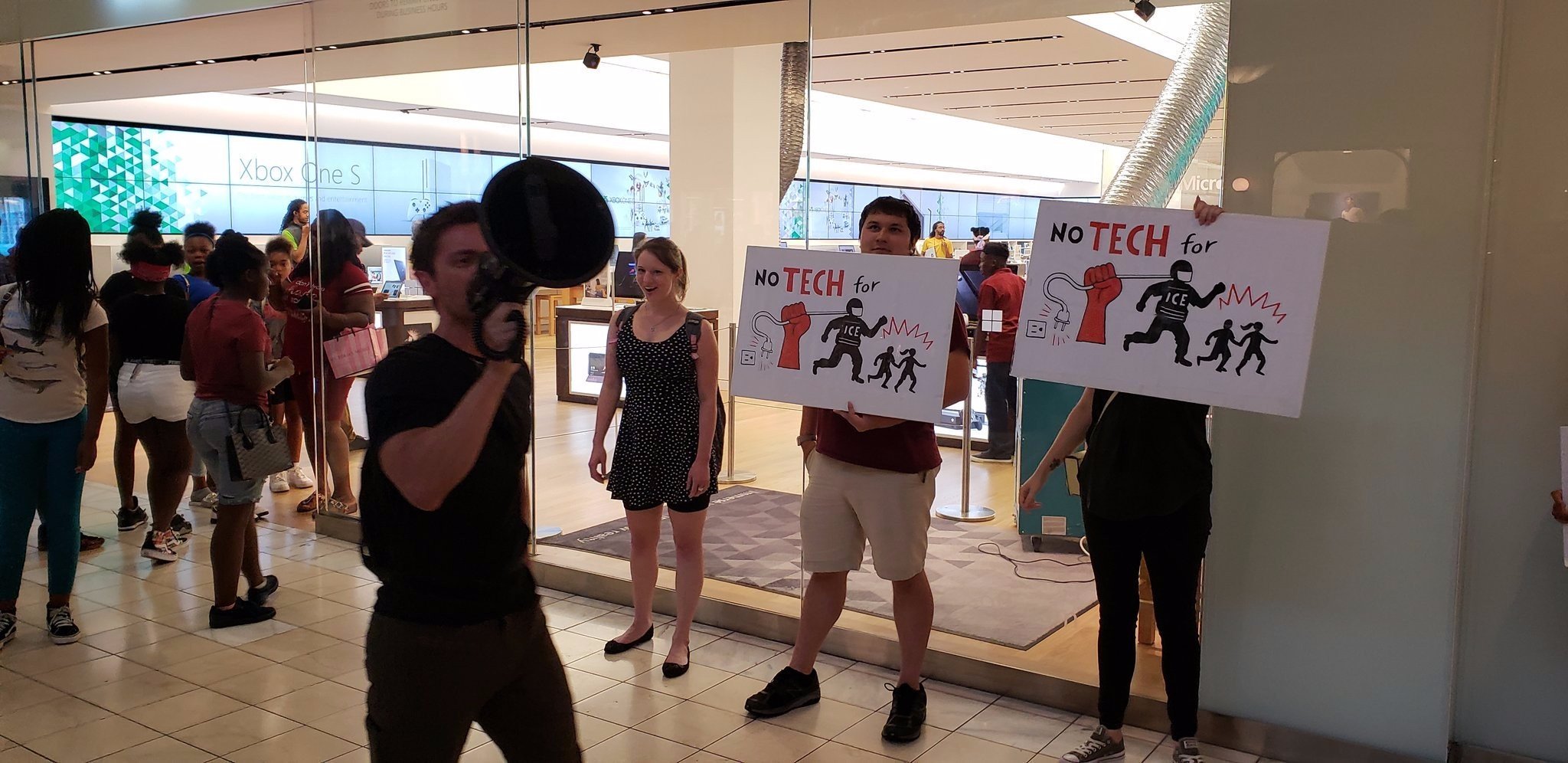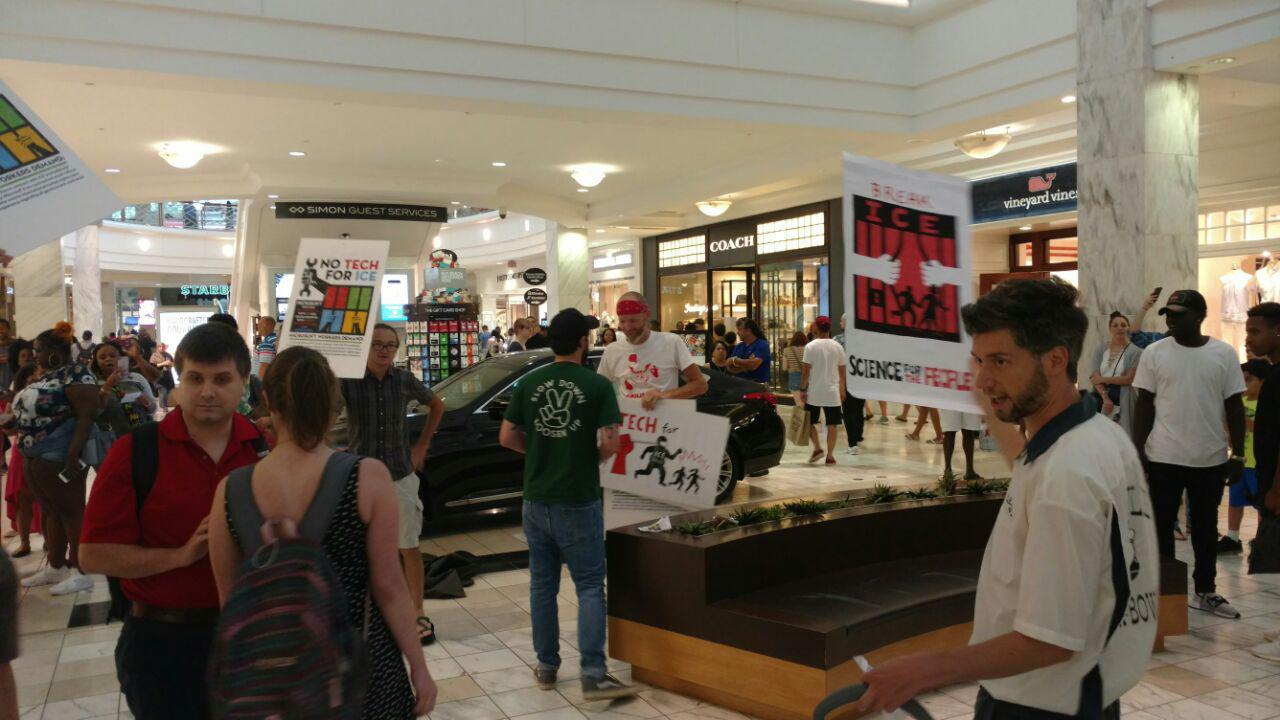 As anticipated, this spectacle was cut short. Police officers from the mall precinct eventually accosted the protesters and hustled the speaker out of the mall as the crowd booed, but they made no arrests. Watch a video recording of the Lenox square mall picket.
As noted also in the report by our allies from the Metro Atlanta DSA, this unfortunately interrupted the team's plan to observe a moment of silence to reflect on the life of Efrain De La Rosa, who died by suicide the week before the action in ICE custody at Stewart Detention Center in Lumpkin, GA. Any death in ICE custody is murder, facilitated by Microsoft technology and corporate profiteers. Despite the disrespect shown by Atlanta police, we can take a moment now to express love and solidarity for our Latino brother, Efrain De La Rosa: ¡Presente!
Boston
Coinciding with the Families Belong Together national day of action on June 30, SftP's Boston chapter organized with Microsoft researchers and the local Solidarity chapter to flyer and make signs outside the Microsoft NERD Center in Cambridge. Thirty activists then marched to meet the main Families Belong Together event on Boston Common and talk to march participants about the link between tech labor and immigration injustice.
On July 11th Science for the People Boston, Tech Workers Coalition, ACLU Massachusetts, and LOGIC magazine hosted a panel discussion at MIT. Panelists were Sasha Costanza-Chock a scholar, activist, media-maker, and current Associate Professor of Civic Media at MIT; Kade Crockford, the director of the Technology for Liberty program at the ACLU of Massachusetts and MIT Media Lab Director's Fellow; and Valeria Do Vale, the Lead Coordinator at the Student Immigrant Movement and an undergraduate at Northeastern University.
What's Next?
In early June, Google engineers compelled the company to not renew Project Maven, a contract with the Pentagon using AI to improve drone strike accuracy. The success of their campaign—and recent outrage about human rights abuses by ICE—have inspired similar efforts at Amazon, Microsoft, and, Salesforce.
While these companies have not cancelled their contracts, pressure is growing. Microsoft has released two statements related to their complicity in supporting ICE–the first of which was a direct response to their January blog post proudly proclaiming support for the agency ahead of the outcry over the family separation  policy, and a more recent post largely deflected from the core message of the Microsoft workers' letters by focusing exclusively on facial recognition technology and the role of government in regulating it–not on the company's existing ICE contract.
Salesforce also faced immense shame after RAICES, the legal firm responsible for the defense of many detained immigrants, rejected a $250,000 donation from the company while they continue to hold their ICE contract. The letter from RAICES explicitly called on the company to follow its workers' demands.
Amazon, most shamefully, expressed its pride in serving the police and ICE by providing facial recognition technology. Its workers also face the most severe repression for organizing around this policy and have not gone public with their identities for fear of retaliation. To contextualize what they face, Amazon recently called the police on its own European workers while they were on strike, which led to severe state violence against those workers. Amazon has shown its dedication to profit by any means necessary, but like any historical institution, it is fallible.
That these companies were forced to acknowledge the internal and public outcry around their ICE contracts shows that they feel the pressure. Indeed, workers at several other companies have been successful in calling on their companies to cancel ICE contracts, including the consulting firm McKinsey & Co. For the tech companies we targeted, Science for the People is committed to acting in solidarity with workers at these companies and to building external pressure until they stop supporting ICE and CBP.
Will you join us?