After Hurricane Maria made shore on archipelago of Puerto Rico in the early hours of September 20, 2017, the island struggled to adapt to new realities. Maria's Category 4 winds of over 150 mph shaped the landscape unlike any other natural phenomenon before. The storm shocked Puerto Rico. The Island was already weakened by divestment from public infrastructure and austerity programs far worse than those imposed on Greece and other European countries after debt crises caused by the US economic financial collapse in 2007. Similar to the Greek debt, the legality of some of the Puerto Rican debt is questionable.
The people of Puerto Rico are US citizens residents of a US territory considered "foreign in a domestic sense". This categorization amplifies inequalities on the Island and renders citizens practically helpless in the eyes of Congress. Nevertheless, this is not a story about helplessness but about resistance and organizing on the "island of enchantment".
Many initiatives working under the flag of "recovery" for Puerto Rico follow a pattern of "disaster capitalism" well described by Naomi Klein in her book "The Battle for Paradise." Much of the local government's response to jump start the economy of the island was focused on attracting corporate magnates and crypto currency investors. A recovery plan that was very welcomed by the Trump administration which has repeatedly proven its disregard for the People of Puerto Rico and is well aligned with Puerto Rico's colonial history of exploitation and subjugation of its citizens.
Amid this scenario, the Puerto Rico Working Group of Science for the People set out to support recovery efforts on Puerto Rico, organized by the people of Puerto Rico, whose aim is not only to oppose disaster capitalism but also create a different reality, a new social economy that is truly sustainable and beneficial to the people of Puerto Rico and the planet as a whole.
On July 19, 2018, our first Puerto Rico solidarity brigade traveled to the island with eight members of Science for the People from Ann Arbor, Atlanta, New York City, and the At-Large chapters, and were joined by a member of the Free Radicals. Our aim was not only to provide labor to tangibly contribute to building a resilient Puerto Rico for the people but also to deepen our understanding of the sociopolitical situation and further build the network of partners in the struggle for social justice and a decolonized Puerto Rico.
Collectivo Agroecologico Güakiá
The brigade's efforts were focused primarily on supporting Güakiá, our host organization (watch a short documentary about Güakiá). On their eleven acre farm we camped near their recently built gazebo which became our base of operations for the following ten days, joining another solidarity brigade based out of New Orleans. We shared a week filled with rich conversations about agriculture, ecology, politics, and food justice as we got to know each other.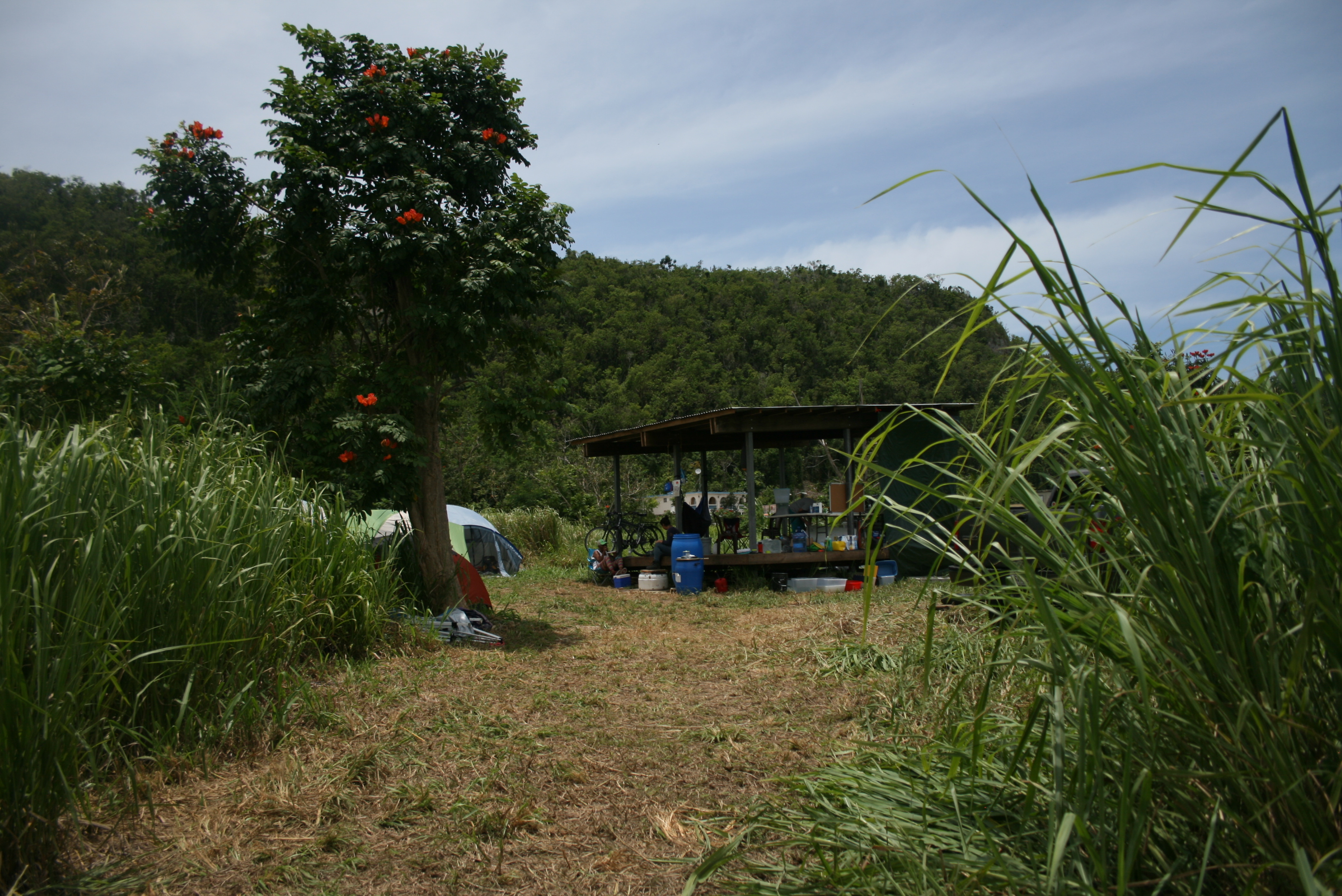 The Güakiá project is built on the principles of Agroecology, a new approach to agriculture that places the ecological sciences at its center and thus acknowledges the farm's impact on its surroundings, and the deep interconnections of the farm and its environment. As such it promotes sustainable agricultural practices but also includes socio-political dimensions by considering food accessibility, farmer well-being, and the relationship between farmers and the community. The Güakiá collective takes this mission very seriously and is organizing with the neighboring community of San Carlos, one of many communities that struggled with food shortages after the hurricane, to pursue a self-sustainable future. Already before the farming they run a food composting project with the community. Watch a short news report featuring Güakiá members, a community member, and SftP brigadiers (el comunicado en español).
At the farm, we helped to clear the land, learning how to use machetes to cut tall grass.  We built a perimeter fence with posts and barbed wire. We built community compost bins and cleaned out rubbish accumulated from fields lying fallow for years. In addition, we commenced the construction of a composting toilet, an essential part of Güakiá's integral sustainability plan. All tasks were laced with conversations about agroecology, food sovereignty, and the US's colonial occupation of Puerto Rico. Güakiá members put a lot of efforts in explaining these concepts and how their projects contribute to building food sovereignty on an island-nation that today imports more than 90% of its produce, while a large part of its agricultural economy is devoted to lucrative cash-crops benefiting the big agriculture rather than the island's population. During the hurricanes in 2017 the port of San Juan, the island's only entry port, was blocked resulting in food shortages which made it even more clear that the current agricultural system is not resilient, is not build to help the island's residents and must urgently be changed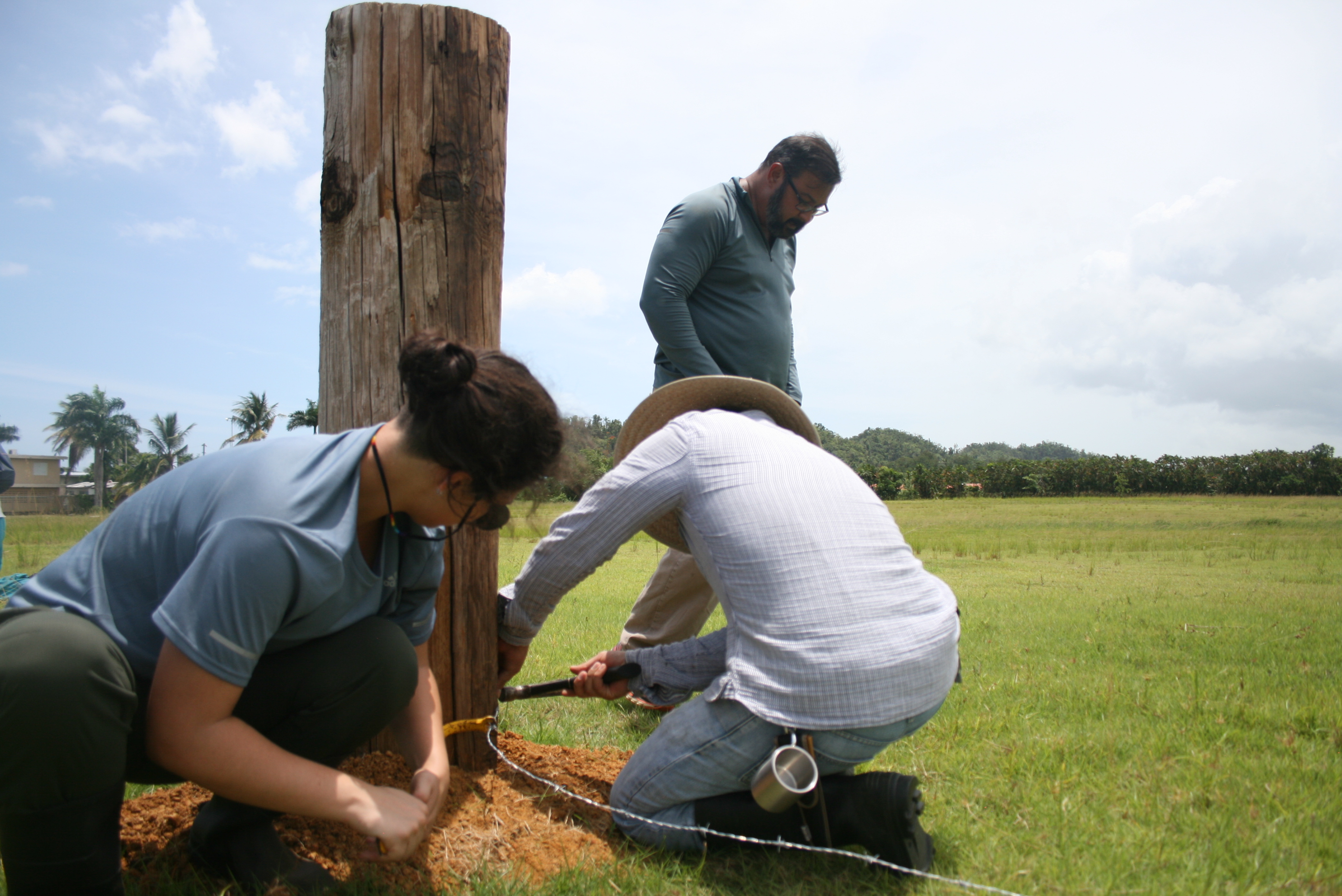 Our efforts contributed to preparing  the land for its first seeding which took place in the winter of 2018. The Science for the People working group has regular calls with the collective to keep strengthening the project with the resources and knowledge we can offer from afar. In the meanwhile we ramp up organizing for sending our next brigade in late 2019/early 2020. If you want to know more about what we are up to reach out to Bolívar Aponte.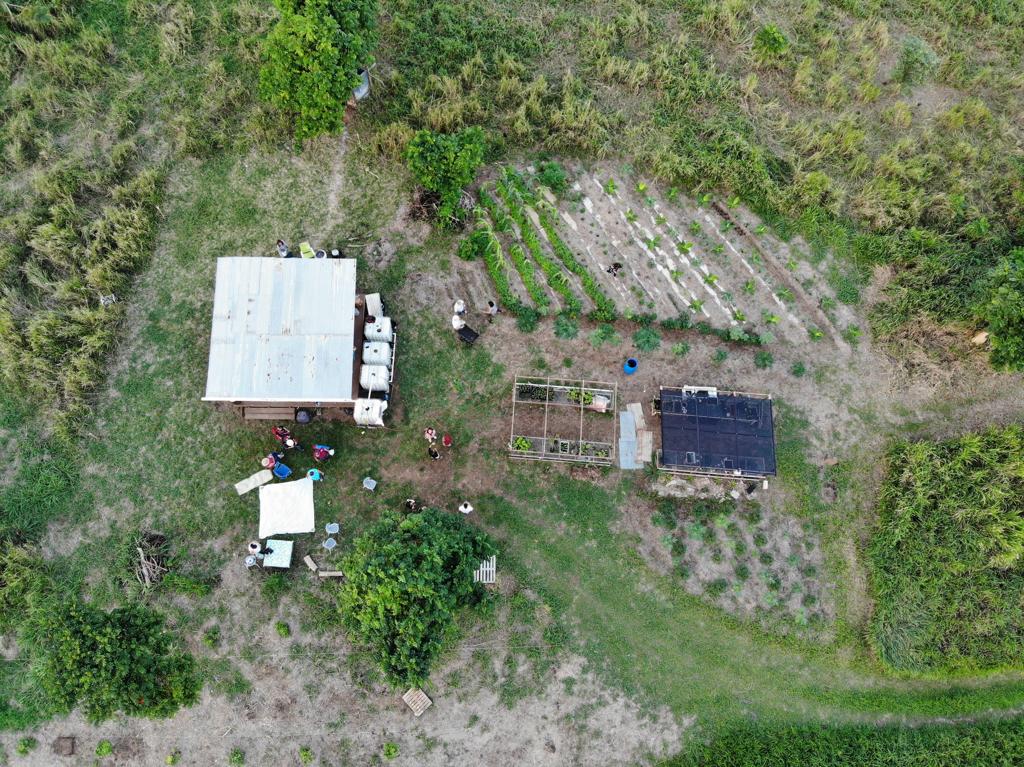 El Hormiguero
Day 1: Universidad Sin Fronteras and Cine Hormiga
On Monday, July 23, the brigade visited El Hormiguero, a community center in the heart of Santurce, a barrio of the capital San Juan, to attend the workshop on PROMESA, climate change, and community efforts. Members of the organization Universidad Sin Fronteras conducted this workshop that consisted of two informative speeches about the topic and a breakout group brainstorming session on steps and strategies to take for the community to build resiliency. It also featured a kids space where our youngest could play but also collect their thoughts on the future of Puerto Rico.
PROMESA is a tastelessly sarcastic acronym given to a U.S. federal law of 2016 that was put in place to deal with the debt crisis by – as is unsurprising for disaster capitalist agenda – imposing austerity programs like the closure of several hundreds of public schools, major university funding cuts of one third of the annual budget that threatens to result in closure of up to seven campuses and resulted in a hike of student fees among other detrimental consequences to Puerto Rico's education system. PROMESA established a fiscal control board that assures US government's domination of Puerto Rico's economy. Puerto Rico's citizen aptly call it "La Junta". It empowers a board of seven members appointed by the US president to decide on and dictate changes to fiscal plans put forth by the Puerto Rican government and has since enforced widespread austerity measures heavily affecting the education system, labor, and the islands energy infrastructure. Hundreds of schools have been closed across the island, major cuts to universities have been imposed. The working class see slashing of sick leave and vacation pay, the Christmas bonus has been cut and the workforce finds themselves pushed into tourism industry. Moreover it supports the privatization of Prepa, the island's publicly owned power company.
El Hormiguero is a self-organized community center in a previously abandoned building. Before the hurricane, a group of activists and community members occupied the building; building equipped it with a workshop, library, and small garden, and started using the space for community meetings and education. After hurricane Maria, El Hormiguero ("ant's nest" in Spanish), has been an integral part  of grassroots recovery efforts. On our first visit to the community center, we met with members of Universidad Sin Fronteras, an organization dedicated to decolonizing education and developing critical consciousness through emancipatory pedagogy in Puerto Rico and the continental US. Universidad Sin Fronteras works with social movements, organizations, and individuals. We had a formal conversation as a group about the the political situation in Puerto Rico post-Hurricane Maria and how the natural hazard exacerbated the highlighted the political and economic disaster in Puerto Rico.
In the evening, member of El Hormiguero, community members and the SfTP brigade watched the documentary movie at their weekly movie forum Cine Hormiga.  The forum gave way to a  lively discussion on the failure of capitalism, the alternatives of anarchism and socialism, and the role of science in Puerto Rico. Participants discussed in English and Spanish, facilitated by translation by our members and participants.
El Hormiguero
Day 2: Solar Brigade
On our second visit to El Hormiguero we participated in a solar brigade, where we learned about the technology of solar panels: from Ohm's law to the wiring of the panels.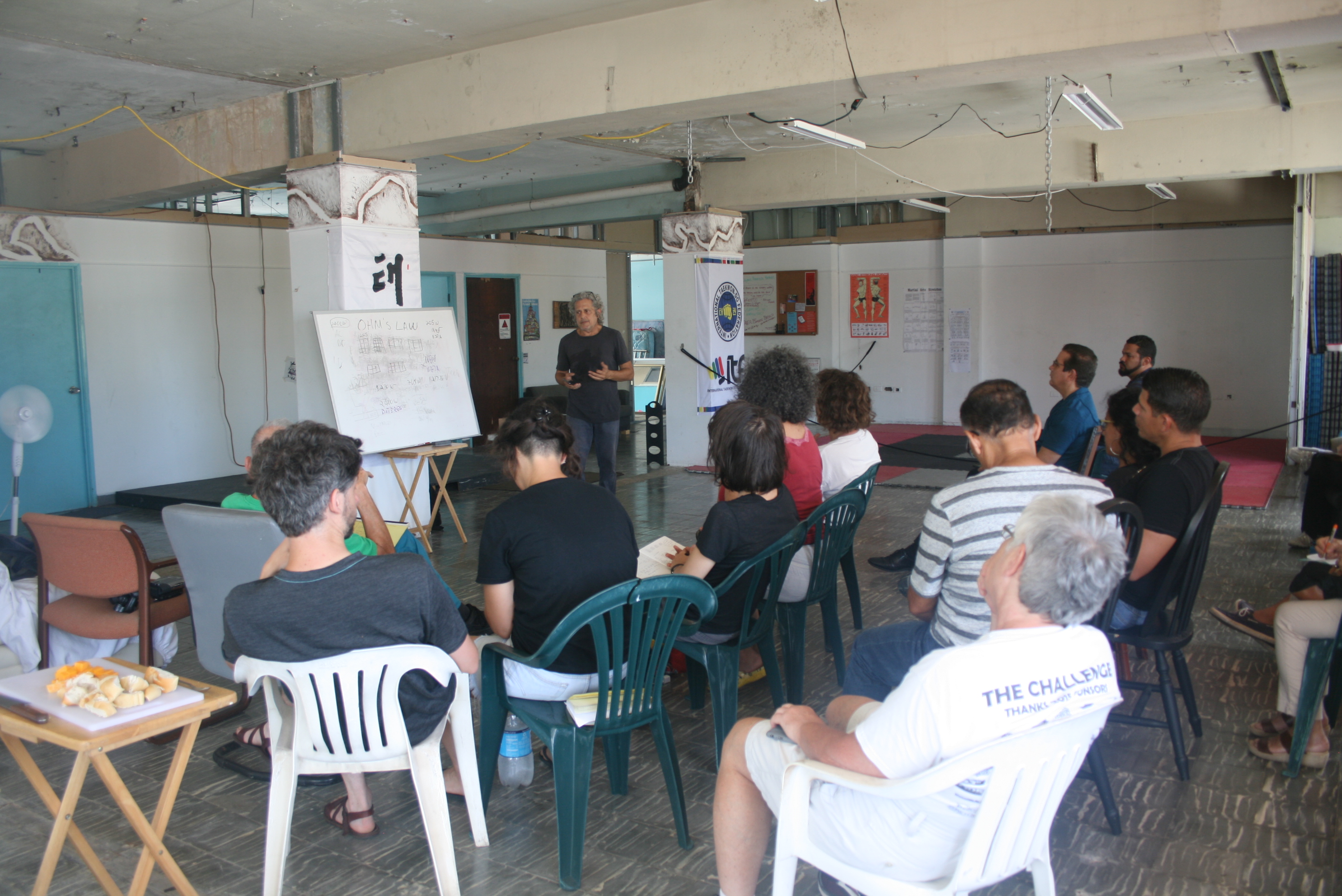 Together with interested members of the surrounding San Juan community we assisted in installing and starting up solar panels on the El Hormiguero building. We were excited to witness the first time that the fans at El Hormiguero were powered by the sun! It is nothing short of astonishing that the organizers of El Hormiguero were able to arrange and install a rooftop solar system, powerful enough to run the appliances used in the building, with only roughly $1,500, the knowledge and know-how all self-taught: a prime example on how community can build resiliency by mutual support.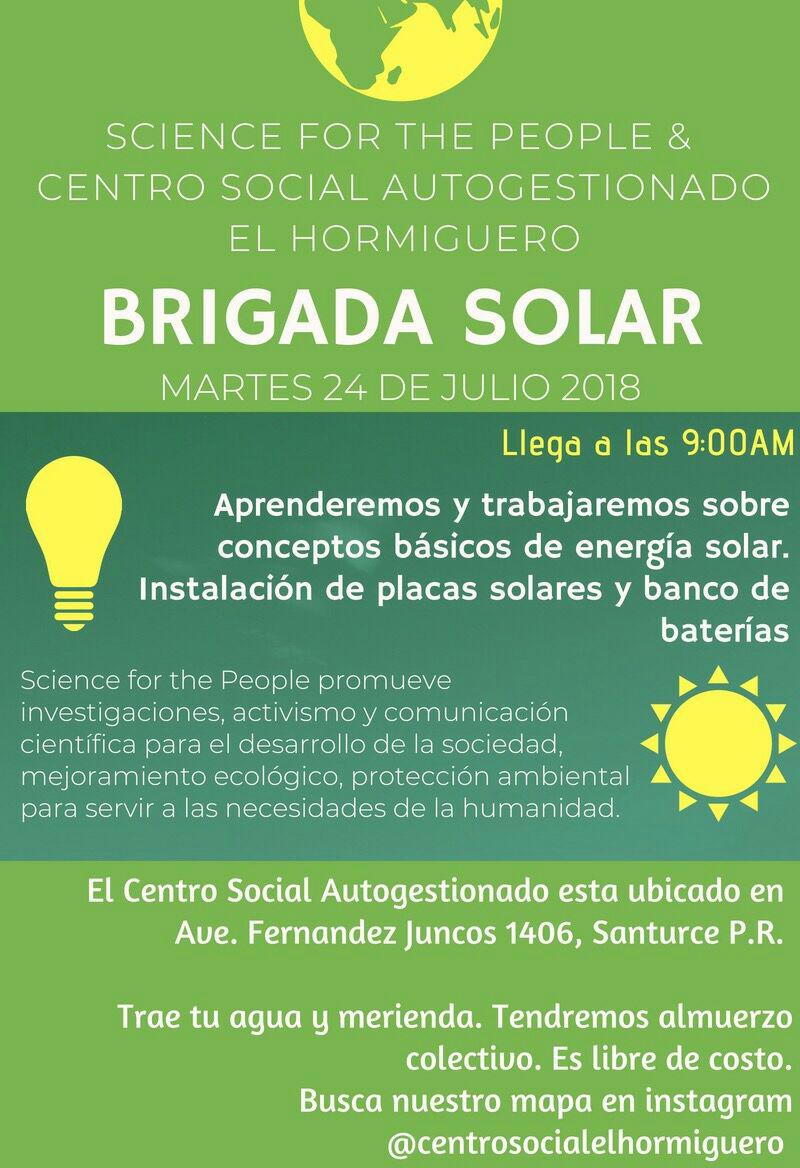 After the successful installation organizers, brigadiers, and community members joined for a reflective discussion on the situation of the energy infrastructure of the island. A community person pointed out how simple – and even cheap – it can be to install solar panels while thinking about the many deaths that could have been prevented if a resilient, decentralized solar infrastructure had been invested in by the authorities. Deaths that have been the consequence of the long lasting lack of electricity in many communities after the hurricane. Many had no current for months, some almost a year. The solar brigade was yet another great example of community self-organization and we are deeply grateful to have been given the opportunity to attend and share this learning experience.
An excursion to the center of the island:
Casa Pueblo and Coffee Agroecology
Another opportunity to learn about sustainable energy and ways to build a resilient, autonomous Puerto Rico was our visit to Casa Pueblo, a long-standing community organization and center, which for a large number of residents became the only source of electrical energy after the hurricane destroyed the centralized energy grid on the entire island.
A two-hour drive from our campsite, Casa Pueblo is located in the town of Adjuntas in the central mountainous region of Puerto Rico. We were given a tour that introduced us to the history of the community organization and its ongoing projects. We met with Arturo Massol Deyá, professor of Biology and Associate Director of Casa Pueblo, who informed us about Casa Pueblo's long standing commitment to sustainable forestry, rooted in environmental struggles against a copper mining project in the 1970s. Today, with electricity supplied by solar panels, Casa  Pueblo is completely self-sustaining and has spearheaded a debate on energy democracy and sustainable energy in Puerto Rico. We were joined by Heidi Morales, a researcher at the University of Puerto Rico and organizer for the Puerto Rico March for Science. Our visit coincided with a visit from a delegation of the US Congress to Casa Pueblo led by Nancy Pelosi. The delegation's objective was to learn about Casa Pueblo's response after Hurricane Maria and recognize their contributions to the community. In addressing the delegation, Massol Deyá highlighted the hypocrisy and incongruities of the current political system in Puerto Rico that perpetuate a colonial relationship with the US and contributes to energy dependency of the island.
We want to express our deepest gratitude and honor the effort of Arturo Massol Deyá to join us and answer all the questions we had just half an hour before the US delegation of 14 Congress people visited Casa Pueblo. This kind of leadership that would pay equal attention to a grassroots organization as it does to members of the US Congress is quite rare in our experience.
Leadership like the one of Casa Pueblo is needed and needs to find solidarity and support, but local authorities provide the opposite: the same night of our visit, Arturo Massol was arrested by the police for false allegations of drunk driving. This kind of harassment is common for environmental activists who have faced prosecution for the past decades as their work often challenges capitalist exploitation of the natural habitat and resources of Puerto Rico.
Coffee Agroecology and the politics "el campo"
After Casa Pueblo we set out to explore some more of the island's highlands and met with Science for the People members Ivette Perfecto and John Vandermeer of the Ann Arbor Chapter and their students at an experimental coffee farm where they are doing agroecological research on methods of pest control. Besides learning about the natural challenges coffee farmers face we also heard about the increased interest of multinational corporations – among them Coca Cola – in coffee farms and production on the island ruining the market for traditional farmers. Here you can read an analysis of the coffee farming situation in Puerto Rico.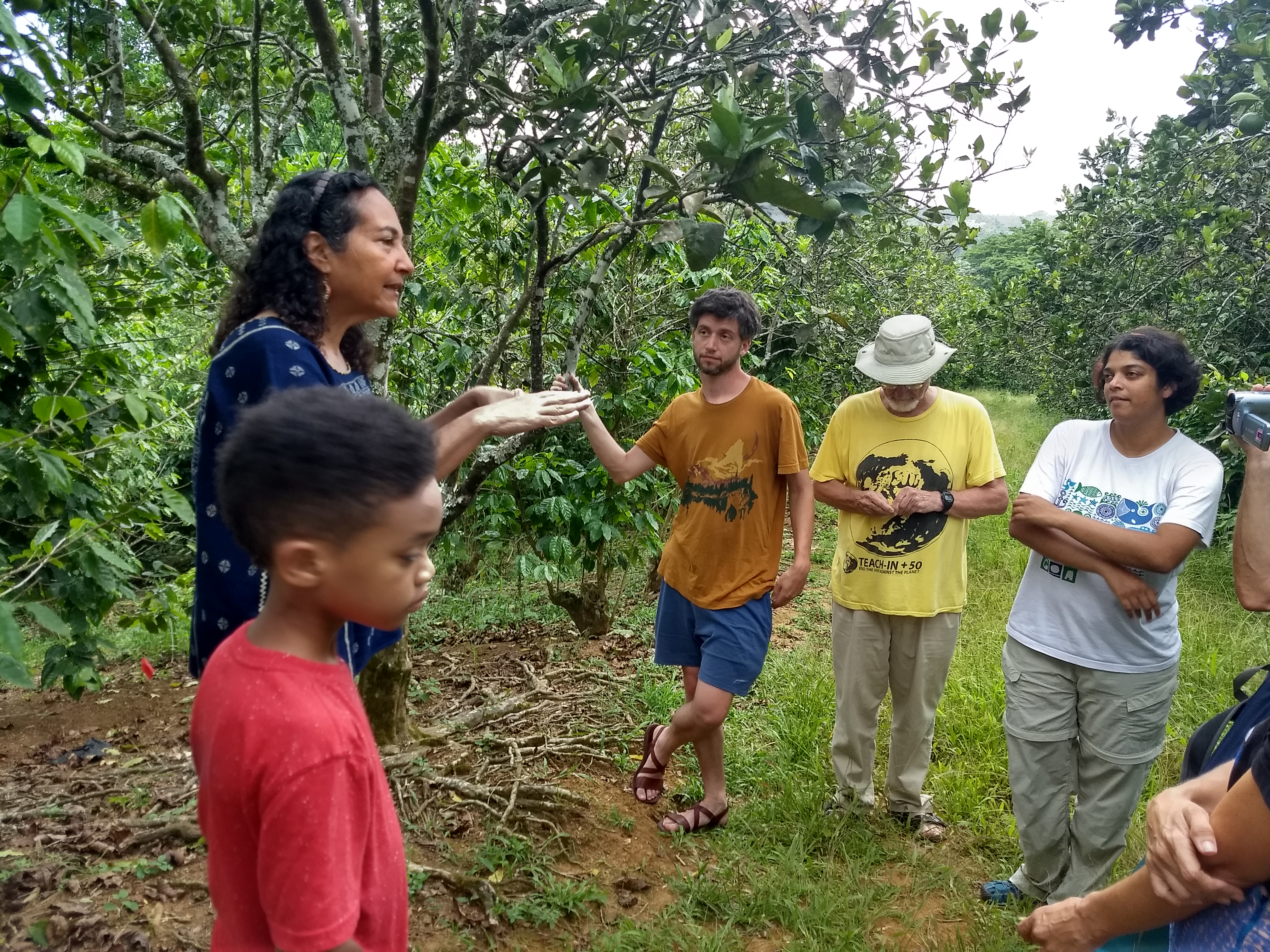 Interviews
Throughout the course of our stay, members of the brigade arranged interviews with a dozen union and social movement leaders from diverse sectors, including education, health, the environment, energy, academia, and agriculture. Interviews focused on the history of anti-colonial resistance and the efforts within each sector to confront the challenges posed by austerity and disaster capitalism, namely the ongoing privatization offensive and its union-busting, dissent criminalizing tactics. The interviews allowed us  coalition-building process of identifying common adversaries, establishing collective demands and developing joint visions and alternatives between and across sectors of Puerto Rican society. Among the common themes was the tendency to draw inspiration from other anti-colonial struggles and climate justice movements in Latin America and beyond, emphasizing that, while the Puerto Rican example has geographic and historical specificities, there is nothing exceptional about the confrontation of repression and resistance on the Island. This tendency to look internationally for common histories was paired with the understanding that climate justice movements around the world are looking to Puerto Rico for lessons, warnings and inspiration. We hope to soon transcribe and publish the content of these interviews for our further political education and analysis. For this, we need your help! If you can help transcribe, edit, and/or translate interviews, please contact our point person Bolívar Aponte.

Conclusion
We thank our friends at Güakià for their hospitality and dedication and for being an inspiration as they face and overcome monumental challenges establishing their agroecological farm besides working in full-time jobs. Thanks also to our friends at Universidad Sin Fronteras for sharing with us their knowledge and analysis regarding PROMESA and the political situation in Puerto Rico. We also thank El Hormiguero for opening their doors to us and providing educational workshops.
Gracias a las y los compañeros de Güakià por su hospitalidad, dedicación y por ser una inspiración frente a los retos monumentales que implica fundar una finca agroecológica además de mantener trabajos de tiempo completo. Gracias también a nuestros compañeros y compañeras de la Universidad Sin Fronteras por compartir con nosotros su conocimiento y análisis sobre la ley PROMESA y la situación política en Puerto Rico. Agradecemos además a El Hormiguero por abrirnos sus puertas y auspiciar los talleres de educación política y de instalación de paneles solares.
Members of the SftP solidarity brigade to Puerto Rico, summer 2018:
Bolívar A. Aponte Rolón (co-coordinator – Ann Arbor, MI), David Hofmann (co-coordinator – Atlanta, GA), Sheila & Frank Rosenthal (West Lafayette, IN), Bethany Sumner (Atlanta, GA), Chelsea Dunn (Atlanta, GA), Amber Keller y niño Kumani (Atlanta, GA), Laura Peñaranda (NYC), and Esther Aviles (member of Free Radicals – NY).

Special thanks to Kathleen Baker for her financial support that allowed one member, Laura Peñaranda, to join the brigade, as well as cover expenses for a first aid kid and other needed tools.
Read more about Puerto Rico's struggle and its socio-political situation in the 70'ies in the Science for the People magazine archives: