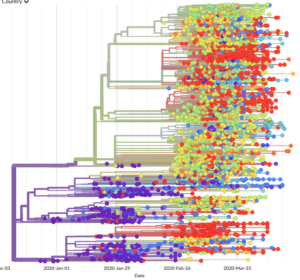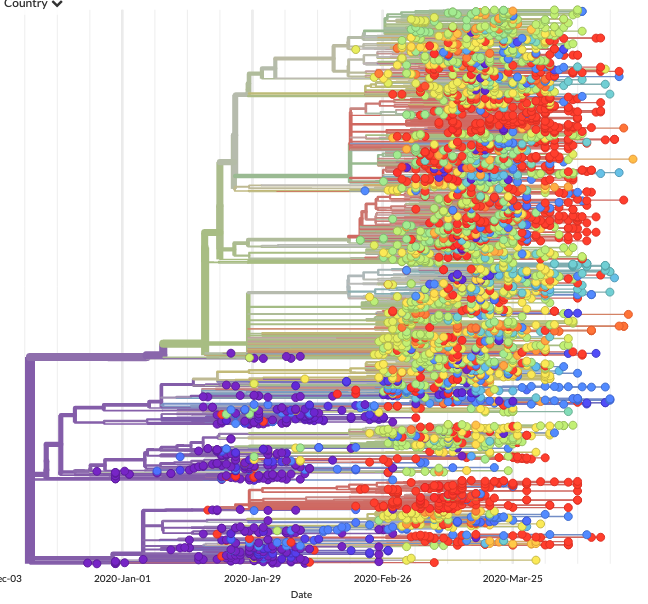 SARS-CoV-2 Virology and Vaccines/Therapies
Compiled by Melissa Baringa for Science for the People
Last updated: April 24, 2020
Virology: Origins of SARS-CoV-2
This topic has been polarized and controversial internationally since the first COVID-19 cases. There have been charges of the virus' origins at a Wuhan seafood market while others argue that this was a crowded market, where human-to-human transmission would be likely and the spread may have occurred at the market in a few cases but originated from other sources, and the origin has not yet been proved. The high homology to the bat virus (Bat-RaTG13), ~96% identical to SARS-CoV-2, has led to the theory of the bat as a host and another, potential intermediate host. Some have argued the virus' origins are not important to discuss at this moment as are cures and drugs however, there have been ongoing allegations and rebuttals regarding this subject and lab origin arguments have even been considered in 'mainstream' scientific journals, such as in the journal Nature, a discussion not normally entertained in these journals, which is remarkable.
This topic draws on both scientific articles that discuss and make scientific arguments regarding the origins of SARS-CoV-2 as well as those discussing the history of countries engaging in biological research for military purposes to understand these current allegations. This includes those articles that SfTP has previously published, i.e., SfTP in 1984, Volume 16, No. 3, that discusses 'offensive' research as a possible outcome of 'defensive' research (Ruttman, R. "'Strictly Anti-Human' Chemical and Biological Warfare", Science for the People, 1984, Volume 16, No. 3).
Many of the scientific articles curated here document methods used to increase the pathogenicity of bat coronaviruses, or to expand their tropism, i.e., change them so that they can infect human cells. The reason given for this research is that this allows for the prediction of how a pandemic could occur. However, these types of studies raise bioethical issues as these approaches create more pathogenic viruses under the auspices of predicting pandemics. This argument is remarkably similar to those that have been used in the past to justify 'defensive' biologic weapons research, which is virtually indistinguishable in the experiments and information obtained with 'offensive' biologic weapons research. It is important for SfTP to provide resources to consider a variety of articles and perspectives in this matter as there is a strong argument that an origin has not been proved nor convincingly argued. While perhaps not an urgent matter as those regarding therapies and vaccines, these articles in this space would include those from diverse viewpoints in order to consider a wide range of arguments and resources.
Resources
Vaccines and Therapeutic Drugs for SARS-CoV-2
This topic will consider the various proposed therapies and vaccines under investigation for SARS-CoV-2. This would include basic virology articles with links and resources that may provide useful information. Given a lot of press coverage has discussed a Moderna/NIH vaccine currently in Phase I clinical trials, which uses RNA of the virus, articles considering this vaccine are included. Others are using synthetic biology to make nanoparticles with the SARS-CoV-2 spike (S) protein. There has been discussion of "digital immunity ID" or "digital [vaccination] certificates" by Bill Gates, backed by Microsoft among others https://id2020.org/alliance. A lot of attention has been drawn to hydroxychloroquine (HCQ) in combination with azithromycin as a potential intervention or prophylaxis. This was initially observed to be beneficial to a group of patients with SARS-CoV-2 in China and in France but has not been studied in a controlled clinical trial and whose efficacy has not been proved. HCQ is now being tested in multiple clinical trials around the world. Now that clinical trials have begun, two trials have shown cardiovascular adverse events and were stopped. These articles also will include aspects of Citizen Science and researchers sequencing SARS-CoV-2 strains and using collaborative international platforms such as Nextstrain and other resources to track viral mutation rates and spread by sharing these interactive tools.
A key question in this arena is "Who stands to benefit from these initiatives?" The Bill and Melinda Gates foundation, and specifically, Bill Gates, has been clear that he supports both a mandatory vaccine and "digital [microchip] immunity IDs". These digital ID proponents suggest implantable IDs that include an individual's vaccination and infection test status will be advantageous for 'return to work'. Alongside this proposition has been the discussion of a mandatory SARS-CoV-2 vaccination. Disentangling the obvious interest of those vaccine- and drug-producing companies who stand to benefit, with those of the public's health, are also types of resources to be included in this space.
Resources
Virology/Citizen Science
Data analysis platforms such as the viral sequence analysis program, nextstrain, allow individuals to submit viral sequences and view their relationships to other deposited viral sequences, in real-time. This method decentralizes the data, allowing the potential for greater transparency in data analysis than with centralized data collection and analysis. For example, the mutation rates of SARS-CoV-2 can be estimated from the submitted sequences from independent international contributors and the relationships between the viral strains determined at the time of submission, which are publicly available.
Early analysis of a large number of COVID-19 clinical cases in Wuhan, China provided a starting point from which we can understand the disease course and clinical outcomes of SARS-CoV-2 infections and papers summarizing these early findings are included here. Other aspects of how virology data collection is or can be being decentralized and is promoting community analysis of data will be included in this section.
Resources