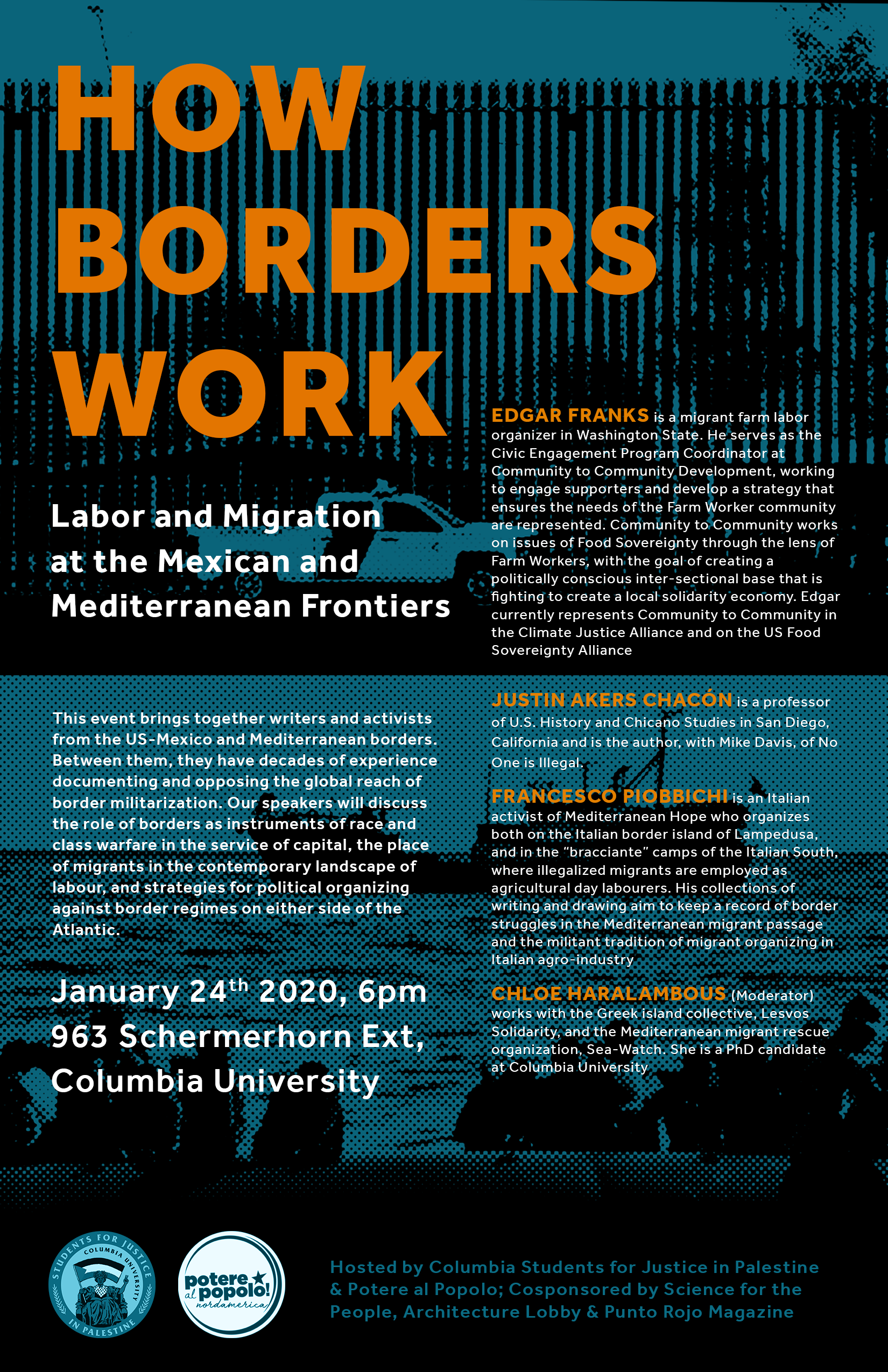 This event brings together writers and activists from the Colombia-Panama, US-Mexico and Mediterranean borders. Between them, they have decades of experience documenting and opposing the global reach of border militarization. Our speakers will discuss the role of borders as instruments of race and class warfare in the service of capital, the place of migrants in the contemporary landscape of labor, and strategies for political organizing against border regimes on either side of the Atlantic.
Friday, January 24th 6-8pm
Location: Columbia University, Room #963 Schermerhorn Extension
Co-sponsored by: Science for the People NYC, Columbia Students for Justice in Palestine, Potere al Popolo, Punto Rojo Magazine, Architecture Lobby NYC, and the Colombian Studies Group
***
SPEAKERS
Edgar Frank is a farmworker organizer in Washington State. He participated in the formation of the first independent farmworker union in WA State since 1986 and today works with Familias Unidas por la Justicia and unions on food sovereignty, participatory democracy models, and just transition demands.
Justin Akers Chacón is a professor of U.S. History and Chicano Studies in San Diego, California and is the author, with Mike Davis, of No One is Illegal.
Francesco Piobbichi is an Italian activist of Mediterranean Hope who organizes both on the Italian border island of Lampedusa, and in the "bracciante" camps of the Italian South, where criminalized migrants are employed as agricultural day laborers. His collections of writing and drawing aim to keep a record of border struggles in the Mediterranean migrant passage and the militant tradition of migrant organizing in Italian agro-industry.
Carlos Villalón is Chilean award-winning photojournalist based in Colombia whose work has been published in National Geographic, The New York Times, and The Guardian, among other outlets. One of his current long-term projects covers the dynamics at the Darién Gap, a jungle region at the border between Colombia and Panama where each year hundreds of migrants from Africa, Southeast Asia and the Americas pass on their way to North America.
Chloe Haralambous (moderator) works with the Greek island collective, Lesvos Solidarity, and the Mediterranean migrant rescue organization, Sea-Watch. She is a PhD candidate at Columbia University.
For questions/media:
Laura Penaranda: societyisland at gmail.com