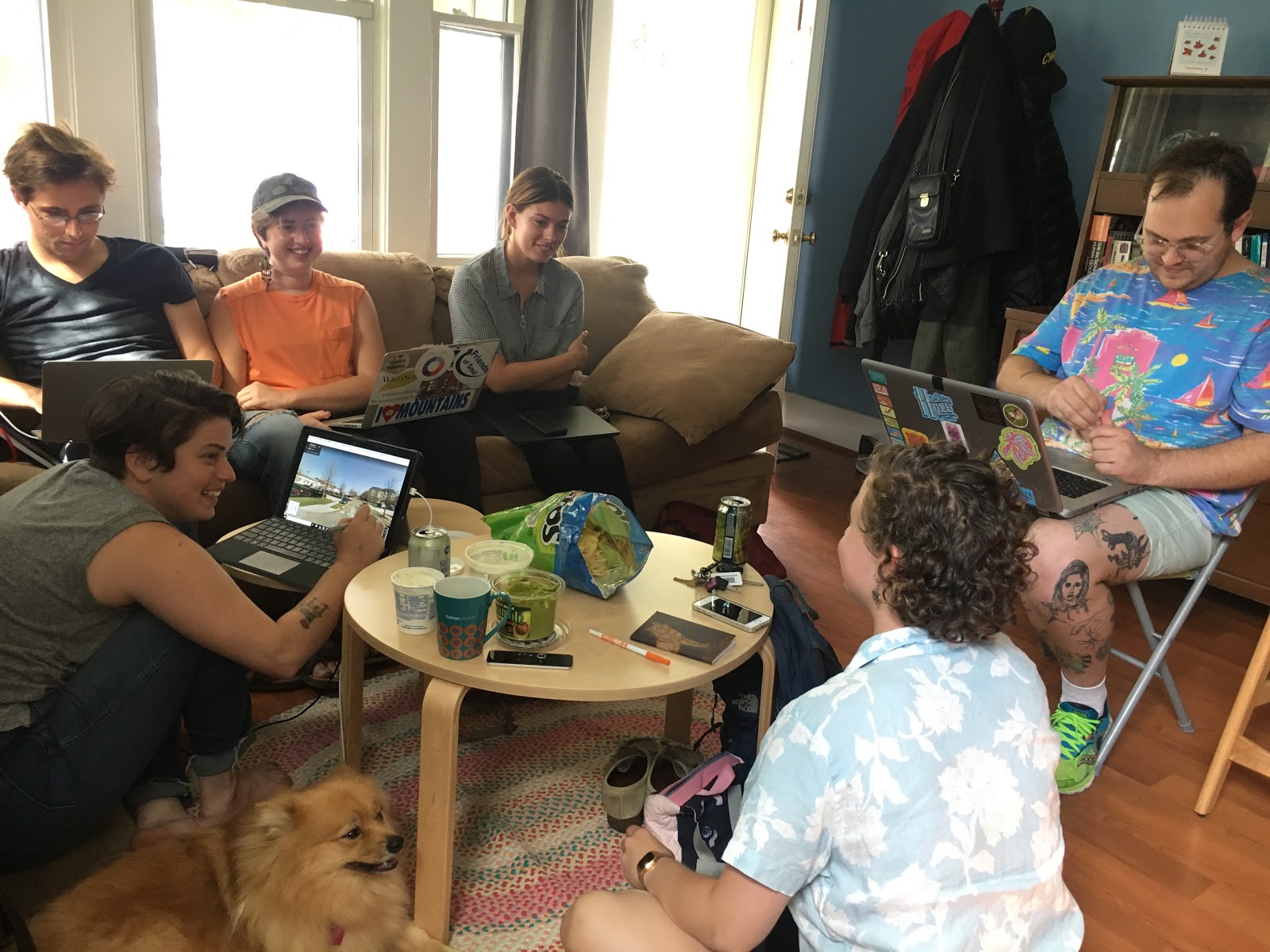 The East Tennessee chapter of Science for the People is centered in Knoxville, but the activities of our membership extend to Oak Ridge and into the rural areas of the region. The largest research institutions in the area are the University of Tennessee, Knoxville and the Oak Ridge National Laboratory – the largest research and development facility for the US Department of Energy. We began to form around the time of the 2017 March for Science. Many of our members had been involved in both labor and environmental activism long before the emergence of SftP or the contemporary science movement in general. So, when it came time to plan and execute the local March for Science, we saw it necessary to strengthen the linkages between our organizing and our jobs as science workers. In building the march and speaker roster, we sought to build unity between the voices of people often marginalized within science, the campus and research workers that make science happen locally, and environmental justice organizations. We felt successful in steering the message of the march towards a distinctly radical tone—advocating the necessity of system change to address climate change, lifting up the struggles of marginalized and oppressed people within science, and promoting these struggle above banal "science advocacy." Overall, the march helped us understand the balances of forces operating within the local science community and develop strategy for building our chapter over the coming months and years.
It took us some time to get into the rhythm of chapter building. We hosted a screening of the documentary Command & Control, about nuclear weapons accidents in the US, on the UT Knoxville campus in fall 2017, with about ten people showing up to learn more about SftP. This event went okay, but it probably would have done better to focus on SftP itself, rather than the content of the film. So, we reoriented our activities towards engaging with students and science workers we had personal connections with to bring them into to fold of SftP to learn about organizing in general, the struggles within science, and to think more deeply about how to engage in our local community.
We began hosting regular meetings in early 2018, with much of the content centered around discussing topics of organizing practices in general, our personal struggles within education and research, and thinking about how to engage with existing movement work locally. One of the lessons learned from these meetings is just how eager many people in the sciences are to learn about political organizing. A common theme in sharing our experiences in the sciences was how institutionally repressed we were from both engaging in political activism and coming to understand science in political terms. Therefore, the meetings became a space where we were sharing our knowledge and skills with one another, introducing each other to concepts familiar to political organizers but less so to scientists, while discussing how we could put this knowledge to practical use. When sharing our memories of the past year, many of our members felt strongly that this was one of the more useful aspects of our meetings.
Through our discussions, coalition building with other movement forces emerged as a primary goal for our work. In particular, there was real concern that if we weren't careful, we might duplicate the efforts of existing movement groups operating within the region, which might be seen as pretentious or chauvinistic coming from a group of scientists. We took this concern to heart, so rather than plan our own campaigns, we reached out to existing groups in the area to help them with their already existing work. For instance, our members assisted with data entry for Appalachian Voices to aid with their campaign to build bottom-up membership power within rural electrical co-ops. Our members also turned out to support the longstanding efforts of Statewide Organizing for Community eMpowerment (SOCM) to hold the Tennessee Valley Authority and the Tennessee Department of Environment and Conservation (TDEC) accountable at hearings for their multitude of failures in the region, especially regarding the 2008 Kingston coal-ash spill. This environmental catastrophe killed over 30 cleanup workers and caused severe illness in several hundreds more of the one thousand workers, due to severe and deliberate negligence on the part of the contractor responsible for the cleanup.
SOCM routinely monitors the permit applications submitted to TDEC for wastewater, hazardous waste, and more. In the fall of 2018, one of the organizers for SOCM approached us concerning a hazardous waste permit application from a chemical plant operated by Dow Chemical subsidiary Rohm & Haas. This plant is located in the heart of Knoxville, in a high density neighborhood where predominantly working class people, people of color, and students live. The plant had racked up a series of wastewater violations in the past due to leakages of volatile organic compounds into the groundwater and nearby stream, so there were major concerns regarding permitting the storage of thousands of gallons worth of hazardous waste on site. As such, there was an opportunity to build coalition between SOCM and SftP and to engage in a shared campaign of awareness raising and to call for a public hearing regarding the plant. According to Tennessee state law, TDEC must comply with requests to host a public hearing regarding any new or renewed permits.
We requested that TDEC host a public hearing and we set ourselves to the task of raising awareness about the plant, and organizing community members and students to attend the hearing. From the outset, we understood that it was probable that the permit would be granted, but we saw this as the first step in long-term organizing for environmental justice in the area that intersected with class and racial dynamics. As such, this was a good chance to grow our collective skills and strengthen our solidarity. To build the coalition, we reached out to a long-standing student environmental group on the UTK campus called Students Promoting Environmental Action in Knoxville. SPEAK allowed us to come to their meeting to talk about this project and SftP in general, and many of the students were very curious about the permitting process and excited to turnout to the hearing. In preparing for the hearing, we hosted a research party to collect information about the history of Rohm & Haas, analyze the details of the application permit, review state and federal environmental law, and to prepare a community briefing document to enable people to make informed comments at the hearing. The research party was undoubtedly one of the most enjoyable and meaningful activities we have done together, as it allowed all of our members to put their scientific knowledge into service.
At the public hearing, we put all of this effort into action. As is typical, the state environmental regulators put forward a canned powerpoint full of assurances regarding their monitoring of the plant. When it came time for our members and coalition partners to comment, we brought the science in a strong and righteous way that demonstrated our prowess as scientists and commitment to serving the people. Each of us comes from different disciplinary backgrounds, including public health and environmental engineering, and our comments showed that our concerns were to be taken seriously. The local press coverage of the hearing reflected this, as they reprinted much of the strong commentary we brought forward. Many of the environmental regulators present expressed in private that they were impressed with our comments afterwards. We learned that, in addition to voicing these concerns at the hearing itself, it helps to prepare a solid written statement in conjunction, as these written statement are reviewed by the state beyond the hearing itself and can have an impact in the decision-making of the regulators. To carry this work forward, we are planning environmental "know your rights" trainings for community members in urban and rural areas to raise awareness and provide education on spotting environmental violations in these environmental, legal rights regarding the environment, how to effectively engage the state regarding these issues, and how to organize for environmental justice in ways that go beyond relying on government agencies.
Overall, we've learned a lot over the past year or so in building our chapter and working on our first campaigns. We hope to continue growing our membership base, strengthening our coalition partnerships, and demonstrating our solidarity with everyday people in the region. We also hope to create linkages with other chapters and to share skills and share organizing work to build Science for the People! You can reach out to us at sftpetn@gmail.com.