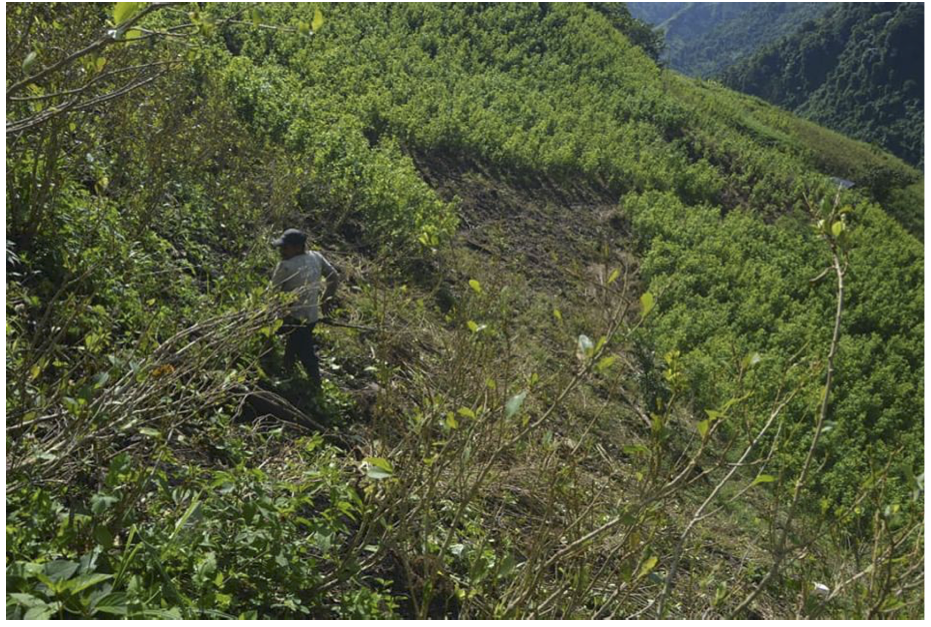 In Colombia, the herbicide glyphosate is once again making headlines after right-wing President Iván Duque urged Congress to overturn a 2015 ban on aerial fumigations intended to eradicate coca cultivations. This comes as the Duque administration seeks to back-out of the 2016 Peace Agreement by objecting to the Special Jurisdiction for Peace (JEP), a central component of the Agreements. While there is no scientific consensus on the health effects of glyphosate fumigations, contradictory results in major studies must lead us to employ the cautionary principle. By arguing that glyphosate is safe and effective, Duque and his allies are further justifying their de-facto annulment of the historic 2016 Peace Agreement, specifically points I and IV on land reform and illicit crop substitution respectively. It is important to engage with the health-based debate while maintaining sight of the larger structural issues, namely land reform.  
Glyphosate in Colombia
Since 1978, Colombia has used glyphosate in its aerial fumigations. Between 1999 and 2015 over 1,800,000 hectares were sprayed with the herbicide to kill illicit crops, beginning with marihuana and transitioning to coca and poppy. Glyphosate fumigations of coca cultivations were domestically framed as a means of eliminating an important revenue stream for the now-demobilized Revolutionary Armed Forces of Colombia (FARC). For years, campesino communities protested the criminalization of coca and the use of glyphosate, linking the latter to damaging health effects, spoiled agricultural crops, and contaminated water sources. After decades of organized strikes and mobilizations, the Colombian government finally announced in 2015, during the Peace Negotiations, that it would at last ban the use of glyphosate for aerial spraying, citing health concerns. Following pressure from the US, in 2016 it resumed the use of glyphosate, this time using drones rather than helicopters and planes.
Glyphosate, the world's most widely used herbicide, was patented by Monsanto in 1970 and is the active ingredient in Roundup. International regulatory bodies have published conflicting results regarding its health impacts. The World Health Organization's International Agency for Research on Cancer (IARC) has described glyphosate as "probably carcinogenic to humans," pointing to ""convincing evidence that glyphosate (…) can cause cancer in laboratory animals." Specifically, recent studies have shown a compelling link between exposures to Glyphosate-based herbicides (GBHs) and increased risk for Non-Hodgkin Lymphoma (NHL, a cancer of the lymphatic tissue). Alejandro Gaviria, a former Minister of Health, has linked the fumigations to "a high probability of infant mortality increases, dermatological and respiratory problems, and possible interference with embryonic development".
Ineffective and Counterproductive Policy
Even if glyphosate were safe, fumigations in Colombia and beyond are ineffective and counterproductive. From Afghanistan to Vietnam, aerial fumigations have more often been used as commercial opportunities or chemical and agricultural warfare than effective policy. In Colombia's Valle del Guamuez, rural areas were founded with names like Arenosa ("The Sandy") after fumigations dried up the land. Communities learn to adapt their coca farming to fumigations but they give up on agricultural crops. Fumigations further aggravate internal displacement in a country with the second highest IDP (internally displaced persons) population in the world. Fumigations eradicate farming communities, not coca cultivation.
We do not yet know the results of the Congressional debate on the use of glyphosate. While there were more speakers in favor of upholding the current glyphosate ban, we know that the administration of Iván Duque is under significant pressure from the US.
The Trump administration has been "seriously considered designating Colombia as a country that has failed demonstrably to adhere to its obligations under international counternarcotics agreements" unless coca cultivations change their course. Former Secretary of State Rex Tillerson had testified to the Senate Committee on Foreign Relations regarding Colombia, stating, "what we've said is you have to get back to allowing the spraying of these fields, the destruction of the fields." Earlier, in 2014, the State Department had complained about protests against fumigations: "National level protests blocking access roads and inhibiting movement were a major hindrance to manual eradication's ability to operate in major coca growing regions, and also bedeviled aerial eradication operations." But perhaps the bluntest explanation came from former US Ambassador to Colombia, William Brownfield, a top counternarcotics official at the State Department for the Trump administration. Collective action and road-blocking, he observed, were not a problem during aerial fumigations. "You cannot protest from the ground an airplane that is flying over a coca field and killing the coca from the air"…
The renewed debate around glyphosate is particularly disturbing because Colombia has tested, proven, and agreed-upon alternatives. The 2016 Peace Agreement's points I and IV address Land Reform and Crop Substitution respectively. The United Nations Office on Drugs and Crime reports that voluntary crop substitution programs, the basis of the Fourth Point, are overwhelmingly more effective than fumigations and other forms of forced eradication. Their report affirms that just 0.6% of coca cultivations are re-planted under voluntary crop substitution programs while, under forced eradication programs, 30% of crops are re-planted in the first three months and over 50% of crops are re-planted within the year. The high rates of re-cultivation are the result of a policy that does not address the basic need for a stable sustenance– the reason families cultivate coca.
Beyond crop substitution, Colombia needs land reform. Nearly seventy percent of the country's productive land is concentrated in 0.4 percent of agricultural landholdings, Oxfam reports. As long as this reality holds, no form of coca eradication has a chance of succeeding. We can and should debate about glyphosate without losing sight of the more central, historic debate in Colombia.
Further readings:
The problem of glyphosate spraying, by Pedro Arenas
Coca and Agriculture in Post- Peace Accord Colombia (Part I) and After the Peace Accord, Violence Persists in Colombia's Coca Regions (Part II) by Isabel Peñaranda
En la Corte, el Gobierno está casi solo en su defensa de la fumigación con glifosato, by Juanita Vélez and Adelaida Ávila Cabrera
Twilight Hour of Coca Fumigation in Colombia Shows its Injustice, Ineffectiveness, by Adam Schaffer and Coletta A. Youngers
The Cocalera Marches: An Expression of the Right to Demand Rights, by Luis Felipe Cruz